Dig For Gold at Silas Deane Pawn
With the Summer Season here, the time to socialize and meet new people couldn't be better! What better way to top off your suit or dress, than an eye catching piece of gold jewelry! Many will ask, where you got your necklace, ring, or bracelet, and you can confidently respond, "I went to Silas Deane Pawn!" The responses might be eyebrow raising, but if they never bought jewelry from a pawn shop, they're diffidently missing out! At Silas Deane Pawn, we believe that a reputation as an honest and reliable business is the recipe for success. That's why we're going to let you in on our secret, and how our pawn shop that has gold for sale is the best deal you'll ever get!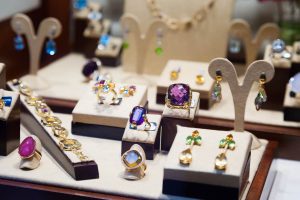 The Selection of Gold Jewelry Changes Daily
Unlike your traditional jewelers, Silas Deane Pawn buys gold jewelry every day. That's because we have gold for sale everyday. Unlike your big box store retailers that may buy jewelry multiple times a year, based on what they sell, Silas Deane Pawn buys jewelry constantly. That means that you may find an entirely different selection from day to day, or week to week.
You Can Find Jewelry You Won't Find Anywhere Else
Our second secret you should consider buying jewelry from Silas Deane Pawn is that you'll find unique gold jewelry for sale. Silas Deane Pawn, for example, buys gold engagement rings, luxury watches, and even antique gold pieces that you won't find anywhere else! Our customers choose to sell their jewelry to Silas Deane Pawn because of the great prices we offer. That means that we are the jewelry buyer of choice for tens of thousands of people, and our collection proves it!
Silas Deane Pawn Shops Offer Incredible Prices on Jewelry
While others seek to profit by cutting corners, paying less to their customers, Silas Deane Pawn believes that paying as much as possible for your items, a good reputation and consistent service will be the key to our success. Compared to traditional retailers, pawn shops offer gold for sale at a great price. Due to the volume of gold we buy and sell every week, we are able to sell gold jewelry, for a better price tag than you'll find at any big box retailer or jewelry store.
You May Be Able to Negotiate The Price You Want
One of the biggest benefits of buying gold jewelry from a pawn shop is that most of the time, pawn shops are open to negotiate a cheaper price! Smart consumers know that the price tag is often just a starting point for negotiations. So, don't be afraid to negotiate at Silas Deane Pawn!
Now that you understand the four secrets of buying gold at a pawn shop, you can confidently say, "I went to Silas Deane Pawn!" You bet their response will spark interest! At Silas Deane Pawn, we offer an incredible selection of gold for sale. We can't wait to sell you the perfect treat for yourself, so you can look your best on your next night out! Stop in at our nine locations, scattered around Connecticut and get the deal you deserve! 
Are you looking to declutter, raise some cash, or part ways with items you no longer need? At Silas Deane Pawn, we offer a convenient and trusted solution for turning your valuable items into cash. This guide will walk you...